13 Mar

ByeByeFat
WHAT IS BYEBYEFAT?
Byebyefat combines the unique functions of two natural ingredients – Oenothera Biennis and wolfberry; it contains conjugated linoleic acids (CLA) and Gamma-linolenic acid (GLA) that helps to fight against obesity caused by imbalanced metabolism and aging, also to fight against oxidative stress that happens during fat burning process. The manufacturing process of Byebyefat gained its patent certificate from the State Intellectual Property Office of The P.R.C (Patent Number: 201110075273.9). The use of "Superfine Grinding Technology" ensures that it preserves the best part of the product thus better absorption. And the application of "Vacuum freeze Drying Technology" maximize the retention of nutrients in the product and hence a longer shelf life. With regular exercise and a balanced diet, it helps to speed up the fat burning process and maintain a healthy and ideal weight.
WHAT IS OENOTHERA BIENNIS?
Oenothera Biennis is also known as the evening primrose. It contains abundant fatty acids, in which the essential fatty acids –Gamma-Linolenic Acid (GLA) and Conjugated linoleic acids (CLA), both are the types of fatty acid that cannot be synthesized in our bodies, and thus needs to be obtained from daily diet. (e.g. breast milk, natural organic and grass fed milk or oenothera biennis). Since oenothera biennis is from plant source, it therefore contains a less content of cholesterol, saturated fat and calories. It is also the richest food source of Gamma-Linolenic Acid (GLA), even with the increased consumption; it does not increase the risk of cardiovascular diseases and helps in further fat burning.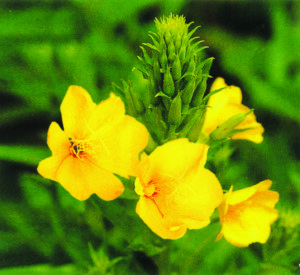 WHAT IS WOLFBERRY?
Wolfberry has been widely used in health treatments for decades. Its nutritional values are essential to our daily needs and health promotion. Besides of its well-known pharmaceutical constituents— Lycium Barbarum Polysaccharides (LBP), it also contains 18 types of amino acids, 21 types of minerals; it is also rich in beta-carotene and other vitamins. Together with Oenothera Biennis, it creates a synergistic effect that promotes healthy fat burning yet to provide an antioxidant property.
2 BENEFITS OF BYEBYEFAT
Helps burning calories
Helps reducing the oxidative stress during fat burning process
Main Ingredients
Oenothera Biennis, Wolfberry
3 times daily, take 3 capsules each time