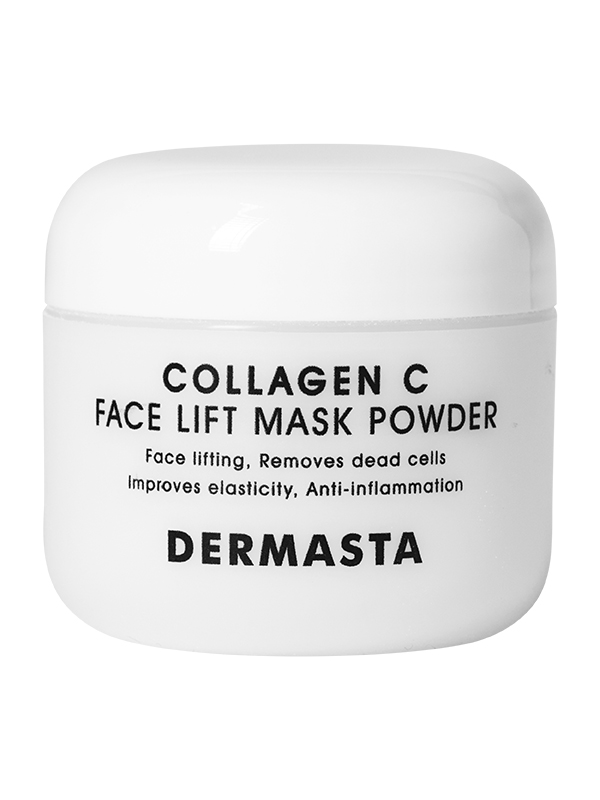 13 Mar

Collagen C Face Lift Mask Powder

COLLAGEN C FACE LIFT MASK POWDER

Promotes the removal of dead cell, smoothen rough skin, gain a more luminous skin tone

Main Ingredients

Albumen, zea mays (corn) starch, niacinamide, ascorbic acid, hydrolyzed collagen protein, panthenol, allantoin, papain, organic aloe barbadensis leaf juice

Retailed Price: $440 (1oz.)

Product Intro Video-Day Protection
Product Intro Video-Night Protection
Dermasta Functional Skin Care
TO MAINTAIN THE YOUTHFUL, SMOOTH AND ELASTIC SKIN
First, you need to maintain a healthy skin regeneration cycle. A healthy skin is capable of regenerating every 28 days, which means the skin cells regenerated from the deep layer move to the epidermis. Therefore, the youth of the skin depends on the regeneration cycle. Second, you need to have enough collagen and elastic fibers for the skin. Collagen and elastic fibers are lost along photoaging and aging, resulting in poor elasticity of the skin and wrinkles.
EFFECTIV EINGREDIENTS TO INCREASE SKIN RENEWAL TIME AND EXTEND VITALITY OF SKIN CELLS
DERMASTA® Functional Skin CareProduct uses effective ingredients to play the best functional effect on the skin:
Deeply slough off dead skin cells, leaving your skin soft, smooth and bright
Maintain a healthy skin regeneration cycle
Improve the synthesis of collagen and elastic fibers
Possess deep penetrating ability to carry the nutrients down into the dermal and hypodermal layers of the skin.
Plant stem cells helps stimulate skin stem cells to enhance skin regeneration
Protect skin cells from free radicals damage
Anti-inflammatory antibacterial
Similar to pH value of skin
DERMASTA® DERMASTA FUNCTIONAL SKIN CARE4MAIN INGREDIENTS
BENEFITS OF ALOE BARBADENSIS LEAF EXTRACT
Rich in antioxidants which could protect the skin from the free radicals damage, rewinding the signs of aging
Rich in amino acids which are the building blocks of new cell formation
Lignin in the Aloe Vera could effectively penetrate skin tissue and bring nutrients down into the deep layers of the skin
Anti-inflammatory and anti-bacterial properties help improve skin problems such as acne, allergy and eczema
BENEFITS OF VARIOUS PLANT STEM CELLS
Rich in strong anti-oxidant which helps fight against aging
Helps protect skin from environment pollutants and soothe irritating skin
BENEFITS OFNATURAL PEPTIDES
Helps promotes collagen synthesis
Provides excellent hydration and visibly smoothes wrinkles
BENEFITS OF AHAS FROM MIXED NATURAL FRUIT EXTRACTS
Natural antioxidants protect skin cells from free radicals damage, rewinding the signs of aging
Soften and slough off dead skin cells which prevent pores clogging
Ultrafine particles with excellent penetrating properties; stimulate skin stem cells and collagen synthesis and enhance skin elasticity
Infuse skin with deep hydration and help strengthen skin's moisture barrier
* To improve the process from metabolism, activation, regeneration to repair, you have to use the Functional Skin Care at least 3 to 6 months. Finally, you can have youth, smooth and elastic skin.
4 BENEFITS
The face lifting property helps to maintain the fullness and firmness for a supple and youthful skin.
Promotes the removal of dead cell, smoothen rough skin, gain a more luminous skin
Helps improve the elasticity of the skin by activating the collagen production
Without causing any unnecessary irritation, it helps anti-inflammation
MAIN INGREDIENTS
Albumen, zea mays (corn) starch, niacinamide, ascorbic acid, hydrolyzed collagen protein, panthenol, allantoin, papain, organic aloe barbadensis leaf juice
DIRECTIONS:
Step 1: Mix mask powder (1 teaspoon) with Face Lift Activator (2 teaspoons)
Step 2: Spread mixture on face thoroughly and leave for 20 to 30 minutes
Step 3: Rinse with warm water and dry gently
CAUTIONS:
The face lifting feeling of the mask can be adjusted by changing the proportion of the mask powder and Face Lift Activator
Keep in cool and dry place
For external use only. Avoid eye area. If irritation occurs, wash affected area and discontinue use