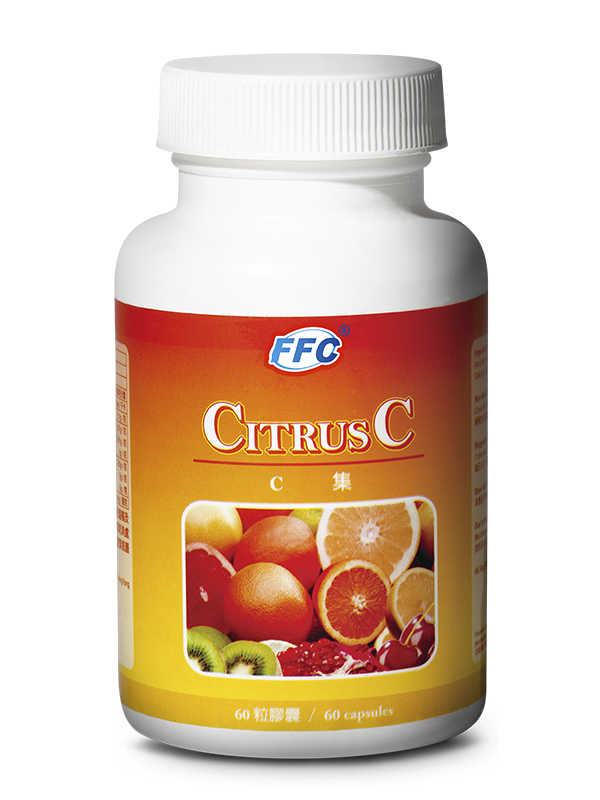 13 Mar

Citrus C
WHAT IS VITAMIN C?
Vitamin C is a water soluble vitamin which cannot be synthesized in the human body. Hence, it is categorized as an essential vitamin and should be supplemented in diet. Excess vitamin C leaves the body through urine.
Vitamin C is the precursor of many key molecules such as collagen and norepinephrine, etc. It also acts as an effective antioxidant protecting the vital molecules such as proteins, carbohydrates, lipids and nucleic acids. The Linus Pauling Institute at Oregon State University cites studies that demonstrate vitamin C is an essential component of immunity.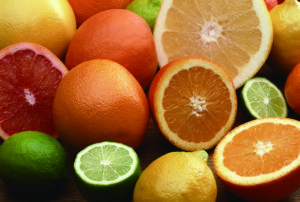 WHAT IS CITRUSC?
Main ingredients: Ascorbic Acid, Calcium, Citrus Bioflavonoids
Each capsule contains 500mg of vitamin C, mainly comes from esterified calcium ascorbate, and formulated with calcium, naturally occurring threonic acid and citrus bioflavonoids. CITRUS C's absorption and utilization by the body are 4 times higher than those of ordinary vitamin C. CITRUS C benefits the stomach and teeth by lowered pH which is a better choice for those with poor GI tract.
It is registered in Hong Kong and approved by the Hong Kong Department
of Health (Reg. No. HK49897) and is safe for consumption.
6 MAIN BENEFITS OF CITRUSC
HELPS STRENGTHEN IMMUNE SYSTEM
HELPS ANTI-AGING
A STRONG ANTIOXIDANT
HELPS BUILD HEALTHY COLLAGEN
HELPS IRON ABSORPTION AND OXYGENATION OF RED BLOOD CELLS
HELPS NEUTRALIZE CARCINOGENS
1. 4 TIMES ABSORPTION SPEED
Vitamin C in CITRUSC mainly comes from Esterified Calcium Ascorbate. The book, Prescription for Nutritional Healing, points out that, your body absorbs esterified vitamin C four times faster than it assimilates standard supplements. Calcium added in CISTRUSC can naturally stabilize and increase threonic acid salt. Threonic acid is a metabolite of vitamin C. It is more readily absorbed into the human body as it is pre-digested so that less metabolic processes are required to utilize the vitamin C ingested.
2. UP TO 5 TIMES RETENTION TIME IN THE BODY
The formula of CITRUSC includes Citrus Bioflavonoids, a natural powerful antioxidant often found in citrus fruits. They are essential for optimal vitamin C effectiveness. It can intensify vitamin C's functions and enhance vitamin C recycling for body use. In addition, esterified vitamin C can last up to 5 times longer in your tissues compared to normal ascorbic acid and can stay active in the body for at least 24 hours, giving body and immune system optimal anti-oxidant and protection with minimal loss when we urinate.3
3. COMPREHENSIVELY USED BY THE BODY (DUAL UTILIZATION)
Ingested vitamin C is absorbed through intestine into the blood. Since calcium asorbate can dissolve in both water and lipid, this dual nature allows it to enter all tissues, which enables the comprehensive utilization in the body. Thus, esterified vitamin C can be transported to different organs and tissues through blood and lymph. This lengthens the period that vitamin C functions in the body while protecting it.
4. WILL NOT INCREASE THE RISK OF KIDNEY STONE
Kidney stone is caused by the building up of calcium oxalate in the kidneys. Oxalate is one of the metabolites of vitamin C, which will be excreted through urine normally. Oxalate in urine has been viewed with some concern because it is a component of one type of kidney stone composed
of calciumoxalate. Numerous studies conducted to test
the actual impact of vitamin C supplementation on urinary
oxalate excretion have demonstrated that supplementation has little
effect on urinary oxalate levels. In one study, daily dose of 10g of ascorbic
acid is taken by 5 healthy volunteers and their subsequent urinary oxalate
levels were measured. None experienced a dramatic rise inoxalate levels. In addition, as the vitamin C in CITRUSC is reusable and will not be lost easily through urine, the formation of oxalate will be significantly reduced. Thus, intake of CITRUSC will definitely NOT increase the risk of getting kidney stone.
5. WILL NOT CAUSE STOMACH DISCOMFORT
Ascorbic acid itself is acidic. When it reaches the alkaline
environment of the lower intestinal tract, it can cause discomfort to some with weak GI initiating inflammation, gas, diarrhea and
discomfort usually when very large dose in ingested.
The vitamin C in CITRUSC mainly comes from Esterified Calcium Ascorbate. Esterified vitamin C is a supplement formulated to react with an essential mineral, an effect that eliminates the vitamin's usual acidity, protecting your stomach. The mineral
calcium ion in the formula can increase the alkalinity of vitamin C
which becomes less irritative and more bio-available in
our bodies.
6. IN FORM OF VEGGI CAPSULE FOR BEST ABSORPTION
The form used in different products is decided based on the chemistry of bio-absorption. Capsule form is the best carrier for vitamin C. The capsule can shield the inside powder from premature digestion. Only when it reaches the duodenum, it will be digested and release the protected powder as duodenum is the most desirable place for vitamin C absorption.
Main ingredients
Ascorbic Acid, Calcium, Citrus Bioflavonoids
2 times daily, 1 capsule each time
1. what ingredients Citrus C has?
Main ingredients of Citrus C are Ascorbic Acid, Calcium and Citrus Bioflavonoids
2. What is Vitamin C ( Ascorbic Acid ) and Calcium?
Vitamin C, also known as ascorbic acid, is a water-soluble vitamin. Humans are different from most mammals and other animals, and we have no ability to make vitamin C ourselves. Therefore, we must get vitamin C through our eating habits.
Calcium is the most common mineral in the human body. About 99% of the calcium is distributed in the bones and teeth of the body, while the other 1% is distributed in the blood and soft tissues. The level of calcium in the body fluids of the blood and cells (extracellular fluid) must be maintained within a very narrow concentration range to maintain normal physiological function. The physiological function of calcium is very important for survival. When the body is not getting enough calcium, the body will convert the calcium in the bones into the blood. Therefore, adequate dietary calcium is an important factor to maintain a healthy skeleton.
3. Why do we need to consume vitamin C ( Ascorbic Acid)?
Vitamin C is a water soluble vitamin which cannot be synthesized in the human body. Hence, it is categorized as an essential vitamin and should be supplemented in diet. Excess vitamin C leaves the body through urine.
THE BENEFITS OF CITRUSC
. HELPS STRENGTHEN IMMUNE SYSTEM
– protects cells against infection
– stimulates production of white blood cells and increase antibody levels in the serum
. HELPS ANTI-AGING
-, vitamin C is a strong antioxidant which helps reduce skin damage by free radicals
– keeps our skin in healthy status
. A STRONG ANTIOXIDANT
– protects many molecules or tissue against free radicals damage
– helps to prevent cardiovascular disease and stress
. HELPS BUILD HEALTHY COLLAGEN
– important component of the connective tissue of our skin, teeth, bones, organs and cartilage
. HELPS IRON ABSORPTION AND OXYGENATION OF RED BLOOD CELLS
– Iron is the mineral in red blood cells that binds to oxygen
-Vitamin C can combine with certain forms of iron to improve iron absorption
. HELPS NEUTRALIZE CARCINOGENS
– Vitamin C acts as an antioxidant, neutralizing cancer-causing chemicals that form in the body
– protect against the formation of nitrosamine (carcinogen)
• When taking more than 83 mg of vitamin C per day, the risk of lung cancer is reduced by 64% compared to those who consume less than 63 mg of vitamin C per day.
• Swedish studies have found that overweight women who consume 110 mg of vitamin C per day can reduce the risk of breast cancer by 39%, compared with a lower risk of overweight women taking 31 mg per day.
.Maintain joint and skin health
-used to generate collagen, carnitine, hormones and amino acids
-Collagen is an element for maintaining healthy blood vessels, cartilage, joints and skin
.Accelerated recovery time
-promote wound healing and accelerate recovery time of burned locations
.Inhibition of histamine production
-Natural antihistamine
-prevent histamine release
-increase the function of detoxified histamine
-reduce inflammation
.Preventive treatment
-Prevent fatigue, depression, anemia, and connective tissue defects (eg, gingivitis, ecchymosis, rash, internal bleeding, and damaged wound healing).
.Improve fertility
-helps overcome some male infertility problems
-increase sperm production
.Reduce dental problems
– periodontal disease
-gingivitis
Inhibition of collagenase production
The production of collagenase can be induced by immune reactions and cytokines, such as fibroblasts and osteoblasts, leading to damage to indirect tissues and even cancer.
Keep your stomach and teeth healthy
Neutralize pH, which is very helpful for people with gastrointestinal discomfort
Generating carnitine (Carnitine)
used to transport fat to the mitochondria, converting fat into energy
Cholesterol metabolism
conversion of cholesterol metabolism into bile
Reduce blood cholesterol levels and reduce the formation of gallstones
Reduce serum levels in uric acid
intake of higher vitamin C can reduce the serum of uric acid
4. Is it safe to use Citrus C?
Citrus C is definitely a safe source of daily intake of vitamin C. It is added with calcium minerals, natural metabolites, threonine and bioflavonoids, which is four times higher than the absorption and application of vitamin C. In addition, NU LIFE C has been registered in Hong Kong (HK49897) and has been confirmed by the Hong Kong Department of Health. It is safe and reliable.
5. What is the syndrome of vitamin C deficiency (esterified C Ester-C®)?
Lack of vitamin C can cause the following symptoms.
Because the body cannot store vitamin C, it is very rare to use excessive amounts of vitamin C to cause serious side effects. It is generally recommended to take no more than 2000 mg of vitamin C per day, because excessive intake can cause symptoms such as stomach upset and diarrhoea.
Insufficient vitamin C consumption may cause the following symptoms, including:
•anaemia
• bleeding gums
• Reduce anti-infective capacity
• Reduce wound healing rate
• Dry and split hair
• Easy to bruise
• Gingivitis (gingivitis of the gums)
• nosebleeds
• May gain weight because metabolism slows down
• Rough, dry, scaly skin
• Swollen and joint pain
• Reduce tooth enamel
Severe vitamin deficiency C is called scurvy, mainly in elderly or malnourished adults.
6. Why choose Citrus C instead of other same type products on the market?
NU LIFE Citrus C is not only having high concentrated vitamin C: it contains 500 mg of vitamin C per capsule (an orange contains about 60 mg of vitamins), and more specifically added with calcium minerals, natural metabolites, threonine and bioflavonoids. Thus, compared with other vitamin C products, Citrus C is four times higher in absorption and application, neutralizes acidity, does not harm teeth or stomach, and is more suitable for people with sensitive stomach. The NU LIFE Citrus C has been registered in Hong Kong (HK49897) and has been confirmed by the Hong Kong Department of Health. It is safe and reliable.
A capsule of Citrus C contains 500 mg of safe high-concentration formula, which costs about HK$8. If you want to absorb the same amount of vitamin C from an orange (an orange used to contain 60 mg Vitamin C), you need to have 8 oranges. Regardless of price or quality, Citrus C is a premium product in functional concentrates.
Citrus C is especially suitable for the following people:
• Absorb less than 2 portions of fresh citrus fruits per day (without exposure to sunlight or freezing)
• People who are prone to colds or allergic rhinitis
• People who do not like to eat fruits or vegetables
• Smokers (including passive smokers)
• People who regularly use computers, television or telephone
• People who regularly eat meat or grilled food
• People who often work in the sun or outdoors
• People with bleeding gum problems or cardiovascular disease or anaemia
• People who have just had surgery or have a wound
• Old man
• Women who are pregnant or breastfeeding (maintain good iron absorption)
• People who are frequently exposed to heavy metals
• People who regularly eat canned foods (canned foods contain heavy metals)
• People who often work under pressure