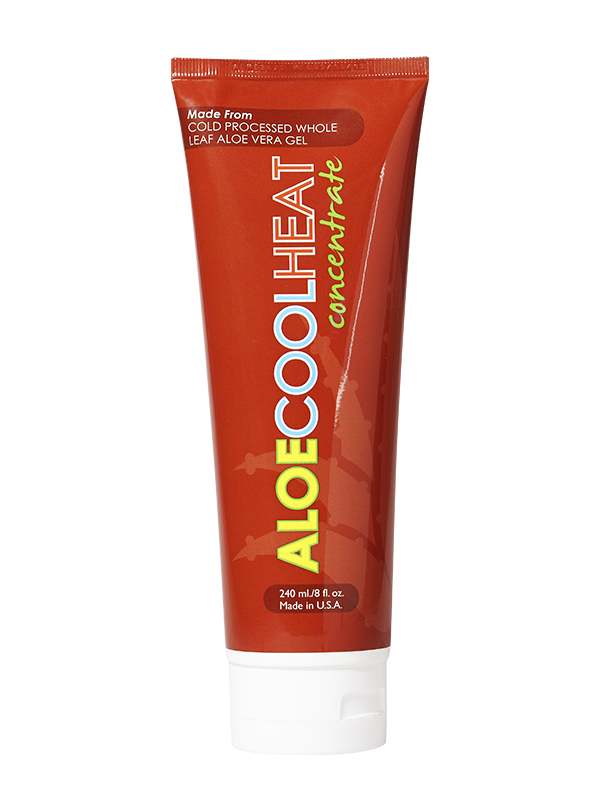 13 Mar

AloeCoolHeat Concentrate

ALOE SERIES-Personal Care

Relieve various muscle and joint pain

Main Ingredients
Aloe barbadensis leaf juice, methyl salicylate, menthol, eucalyptus globulus leaf oil, capsaicin frutescens oleoresin, helianthus annuus sunflower seed oil, glycerin

Retailed Price: $370 (240ml)

Aloe vera is a plant that is grown in tropical and dry areas. It belongs to Asphodelaceae (Liliaceae) family. Over the years, aloe vera has been highly praised by the medical professions, and is often claimed to fame as the "emergency medicine". Aloe vera can effectively cool the skin, providing protection, anti-bacterial, anti-inflammatory and to accelerate the recovery speed of skin burns, wounds and other skin problems.

Aloe Vera can be subdivided into more than 200 species, but only a few species can be used safely for both oral and external use. We chose to use Aloe Barbadensis because of its remarkable properties. Aloe Vera is safe for consumption and it contains a rich content of nutrients as well as aloe latex. It is therefore having "first aid" characteristics at its highest efficacy.
Uniqueness of NU LIFE AloeCoolHeat Concentrate
Lignin in Aloe barbadensis
Lignin enhances the nutrients absorbability to the skin, helps to relieve pain and speeds up the process of reduce swelling.
Menthol
Menthol has a cooling effect and promotes blood circulation.
Eucalyptus Globulus Leaf Oil
Extracted from eucalyptus leaves, these oils have a relaxing and anti-inflammatory effect.
Capsaicin Frutescens Oleoresin
Capsaicin is good for pain relief; rapidly reducing the intensity of pain signals. Also, it causes a sensation of heat on the skin that helps to activate certain nerve cells.
Methyl Salicylate
Methyl salicylate promotes blood circulation, also a topical analgesic with anti-inflammatory effect.
4 Main Benefits:
Relievevariousmuscle and jointpain.
Help toreduce swelling, improve joint mobility and flexibility.
Ease tired and stiff joints.
All in one formula: Strong absorbability, anti-inflammatory, help to relieve pain and moisturize the skin.
Concern aboutjointshealth
Engaged in vigorous exercise
Joint degeneration or injury
Joint discomfortwhenweatherchange
Oftenwearhigh heels
Elderly
Jointprolonged pressure(such as overweightperson)
Clean and disinfect at the affected area.
Apply Activator for anti-inflammation and antibacterial propose as well as to
enhance the permeability of AloeCoolHeat.
Apply liberal amount with massage, until fully absorbed.
Try to exercise the joints which are near to the affected area, can help to relieve joint pain and improve joint flexibility.
Repeat these steps 3 to 4 times daily.
Main Ingredients
Aloe barbadensis leaf juice, methyl salicylate, menthol, eucalyptus globulus leaf oil, capsaicin frutescens oleoresin, helianthus annuus sunflower seed oil, glycerin