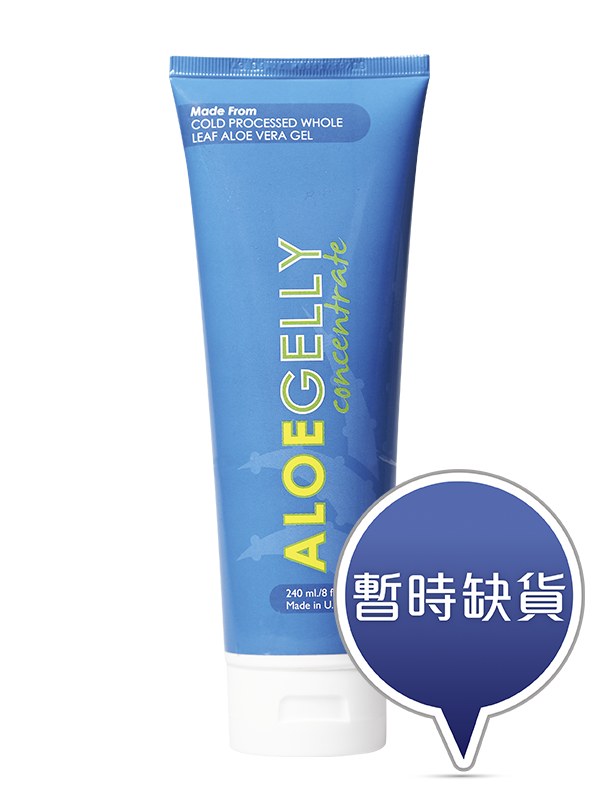 13 Mar

Aloe Gelly Concentrate

ALOE SERIES-Personal Care

Repair dry/damaged skin quickly

Main Ingredients:
Aloe barbadensis leaf juice, Anthemis nobilis chamomile flower, Biotin (Vitamin B7), Camellia sinensis leaf extract, Zingiber officinale extract, Cucumis sativus fruit extract, Vitamin E, Vitamin A, Retinyl palmitate, Glycerin

Retailed Price: $370 (240ml)
Aloe vera is a plant that is grown in tropical and dry areas. It belongs to Asphodelaceae (Liliaceae) family. Over the years, aloe vera has been highly praised by the medical professions, and is often claimed to fame as the "emergency medicine". Aloe vera can effectively cool the skin, providing protection, anti-bacterial, anti-inflammatory and to accelerate the recovery speed of skin burns, wounds and other skin problems.
Aloe Vera can be subdivided into more than 200 species, but only a few species can be used safely for both oral and external use. We chose to use Aloe Barbadensis because of its remarkable properties. Aloe Vera is safe for consumption and it contains a rich content of nutrients as well as aloe latex. It is therefore having "first aid" characteristics at its highest efficacy.
Uniqueness of NU LIFE Aloe Gelly Concentrate
Aloe Barbadensis
High quality, safe and reliable; formulated through an advance method
of "Whole Leaf Cold Process Aloe Extraction" which helps to reduce nutrient loss and helps to keep the highest nutrient level.
Lignin in Aloe Barbadensis
Lignin can enhance the nutrients absorbability to the skin and is good for skin repair.
PH level
Similar pH level to the skin; non-irritative and non-sensitive.
Vitamin A, B & E
Antioxidant property and helps to deliver nutrients to skin cell quickly.
Allantoin
Helps stimulate cell growth and skin tissue repair.
Botanical extract (Camellia sinensis leaf extract, Zingiber officinale extract, Cucumis sativus fruit extract, Anthemis nobilis chamomile flower)
Helps promote blood circulation and skin rehabilitation process.
Accelerates wound healing as well as to help improve the skin's ability to absorb nutrients.
Main Functions:
Rich in mucopolysaccharides, plant extracts and botanical nutrients to help anti-inflammatory, repair dry/damaged skin quickly and promote cell regeneration.
With its anti-inflammatory and anti-bacterial effects, it helps to stimulate cell growth, promote wound healing and is suitable for acne, skin irritation, sunburn, burns, canker sores and even bleeding hemorrhoids.
Relieves the tingling sensation after laser treatments/ scrubs or after using AHA products.
Quickly absorbs the nutrients especially Vitamin A, B & E into skin cells.
Relieves the damage of diaper rash to the delicate skin of babies.
Suitable for all skin types, especially for sensitive skin.
Disinfect the wound and clean the skin thoroughly.
Apply Activator for anti-inflammation and antibacterial propose as well as to enhance the permeability of Aloe Gelly Concentrate.
Apply a liberal amount of Aloe Gelly Concentrate evenly onto the skin.
Main Ingredients
Aloe barbadensis leaf juice, Anthemis nobilis chamomile flower, Biotin (Vitamin B7), Camellia sinensis leaf extract, Zingiber officinale extract, Cucumis sativus fruit extract, Vitamin E, Vitamin A, Retinyl palmitate, Glycerin