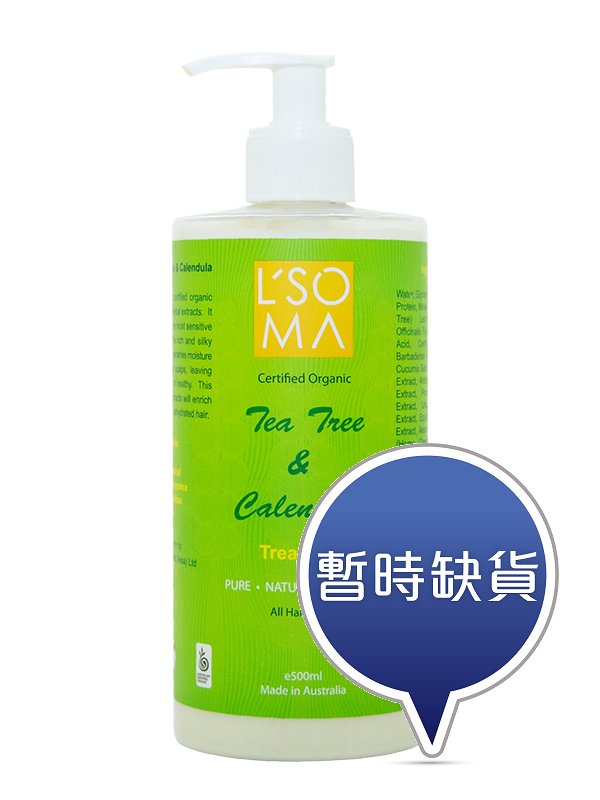 18 Mar

Organic Tea Tree & Calendula Treatment

ORGANIC TEA TREE & CALENDULA TREATMENT

Formulated with certified organic essential oils and herbal extracts

MAIN INGREDIENTS

Water, Glycerin, Hydrolyzed Wheat Protein, Melaleuca Alternifolia (Tea Tree) Leaf Oil, Calendula Officinalis Flower Oil, Pantothenic Acid, Certified Organic Aloe Barbadensis Leaf Juice Powder, Cucumis Sativus (Cucumber) Fruit Extract, Anthemis Nobilis Flower Extract, Panax Ginseng Root Extract, Urtica Dioica (Nettle) Extract, Equisetum Arvense Leaf Extract, Aesculus Hippocastanum (Horse Chestnut) Seed Extract, Rosmarinus Officinalis (Rosemary) Leaf Extract, Salvia Officinalis (Sage) Leaf Extract, Camellia Sinensis Leaf Extract

Retailed Price: $410 (500ml)
L'SOMA FOR ALL
L'SOMA has been lovingly prepared to help people relieve their mental, emotional and physical stress by bringing them into a harmonious condition of both body and mind. This is a functional personal health-care series that is formulated by using natural organic essential oils of premium quality. L'SOMA is your best choice for the whole family and is suitable for all age groups, from young children to elderly.
WHY CHOOSE ORGANIC AND NATURAL PRODUCTS?
Many people have heard about the benefits of organic and natural foods. But few have thought about the advantages of using organic and natural products. If you worry about eating potentially toxic chemicals, can you imagine the damage that can be done by directly applying toxic chemicals to you scalp & skin? With organic and natural products, you don't have to worry about this, because just like organic food, organic and natural products are free of these toxins, leaving you healthier.
CERTIFIED ORGANIC TEA TREE & CALENDULA SHAMPOO IS FORMULATED WITH CERTIFIED ORGANIC ESSENTIAL OILS AND HERBAL EXTRACTS.CERTIFIED ORGANIC TEA TREE OIL AND CHAMOMILE EXTRACT ARE GENTLE FOR EVEN THE MOST SENSITIVE HAIR AND SCALPS.
MAIN INGREDIENTS
Water, Glycerin, Hydrolyzed Wheat Protein, Melaleuca Alternifolia (Tea Tree) Leaf Oil, Calendula Officinalis Flower Oil, Pantothenic Acid, Certified Organic Aloe Barbadensis Leaf Juice Powder, Cucumis Sativus (Cucumber) Fruit Extract, Anthemis Nobilis Flower Extract, Panax Ginseng Root Extract, Urtica Dioica (Nettle) Extract, Equisetum Arvense Leaf Extract, Aesculus Hippocastanum (Horse Chestnut) Seed Extract, Rosmarinus Officinalis (Rosemary) Leaf Extract, Salvia Officinalis (Sage) Leaf Extract, Camellia Sinensis Leaf Extract
BENEFITS:
Hydrolyzed Wheat Protein can infiltrate the cortex of hair, deeply hydrating each strand of hair and help retain moisture
Tea tree oil possesses antiseptic and anti-inflammatory properties, effective against head lice.
Calendula Herbal Extract is an effective antioxidant, it helps to calm and encourage healthy scalp
Certified Organic Aloe Barbadensis Leaf Extract contains different enzymes, it helps to leave hair strong and prevent hair loss
Panax Ginseng Root Extract increases the number of hair follicles, helps improve and prevents hair loss
Vitamin B5 promotes hair to create keratin which enhances the hair elasticity, keeping your hair strong and smooth
DIRECTION
Apply Certified Organic Tea Tree & Herbal Treatment after using Certified Organic Tea Tree & Herbal shampoo. Gently massage through to the ends. For conditioner, leave on for 5 minutes and rinse thoroughly. For a deep and intense treatment, leave on for 30 minutes and then rinse.
CAUTION:
Stored below 30℃
For external use only
Avoid contact with eyes